Do you follow Snapchat queen Kate Hudson? If so, you may have seen her chilling at home and even driving with microcurrent facial toning pads stuck under her eyes. Unfortunately, the actress and It Girl gave the treatment a bad name. "I am in so much pain right now," says Hudson in her Snapchat video. Although, she swears by the treatment and even included an after snap with smooth, wrinkle-free under eye skin.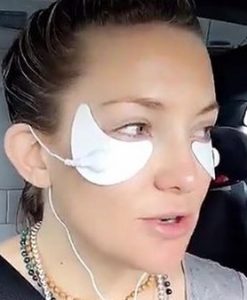 But, you know what? While microcurrent facial toning is effective, it shouldn't be painful. At The Freeze Clinic, our cold laser wand also incorporates microcurrent stimulation. The treatment helps exercise and lift facial muscles for a toned, tightened and more youthful appearance.
Sure, you can buy at-home microcurrent facial toning machines for home use but, just like microdermabrasion, no matter what you spend, the experience and results just won't be the same as visiting a professional. Buy a pack of three or six Freeze Facials to see lasting results: you'll see collagen and elastin production stimulated and wrinkles and fine lines minimized.
(Image: Snapchat screenshot)
So, it's no wonder that celebrities swear by the microcurrent facials. And it's not just Kate Hudson. Kate Winslet, Naomi Watts, Madonna, Uma Therman, Milla Jovovich and Jennifer Lopez—who bought her own professional machine—are fans. It's also rumoured that Princess Diana got regular microcurrent facials. Want to look like an A-lister? Skip the painful eye pads and visit The Freeze Clinic!